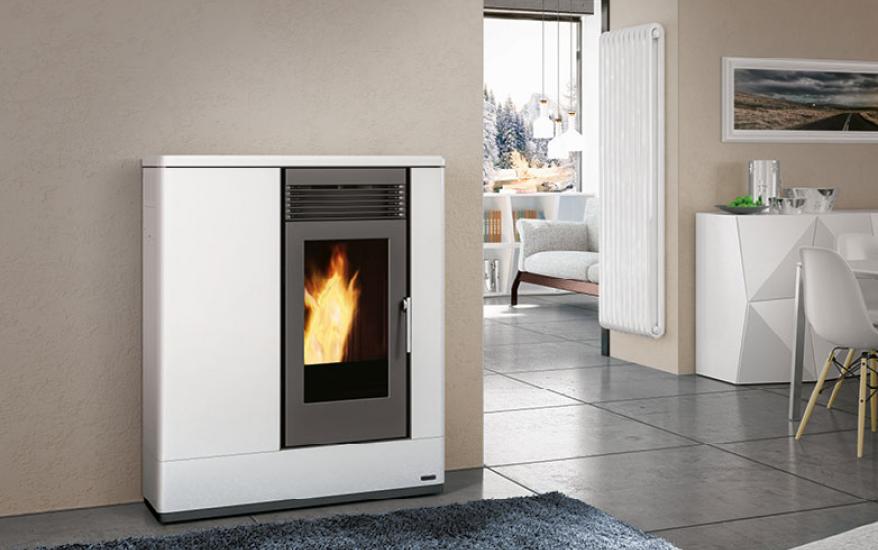 P185 TH
Thermo pellet stove model P185 TH with Coated Steel cladding, for Wall/Flush-with-the-Corner installation, Energy class A+
P185 TH
Thermo Pellet stove with painted steel cladding and top surface in Majolica. Available in the following colours: Bianco, Bordeaux, Brunito and Grigio. Record-breaking compactness, with just 30 cm of depth from the wall. Featuring a linear, sober and modern design, it blends in easily with any setting, offering a pleasant view of the fire.

THE EFFICIENCY OF PELLETS
Performance and savings, the optimum solution for bringing warmth to the home.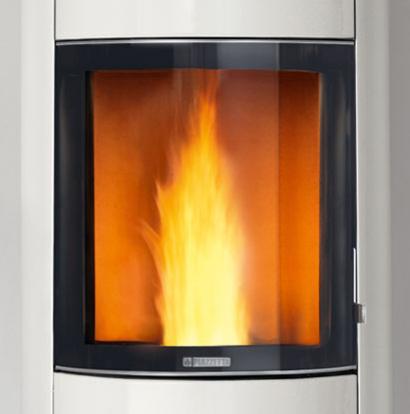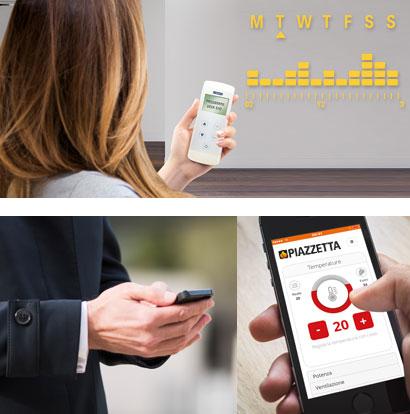 Programmable operation
Piazzetta pellet appliances have a handy remote control you can use to set when the stove comes on and goes off, during a day and during the week. In addition to this function, pellet appliances also enable you to manage and monitor their operation remotely, by sending a text message or using the App via Wi-Fi.
Find out more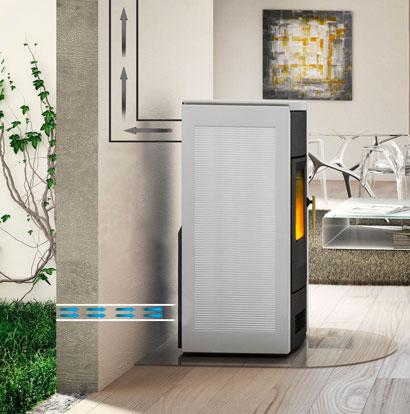 Draw combustion air from the outside
With an optional kit you can draw combustion air directly from the outside, so as to avoid using up oxygen from inside. This option allows you to improve the comfort inside your home, optimising combustion and reducing consumption for greater savings. An effective solution for any type of home.
Find out more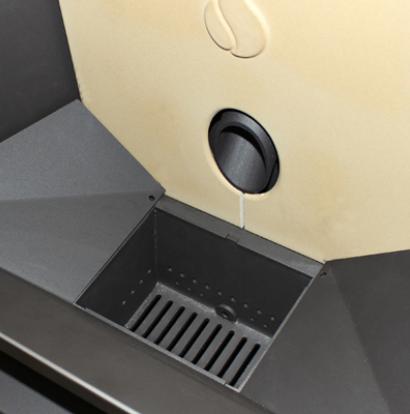 Deflector for maximum efficiency
A particular design feature of the firebox, through the use of a deflector device, allows you to achieve top efficiency performance, reducing the amount of ash produced. This is possible due to "second combustion" which means that pellets are burnt completely, reducing non-combusted material to a minimum.
Main features

Rear flue outlet

Majolica and steel

Digital display

Fuel level

Energy saving

Programming

Automatic cleaning

Reburn
Exchangers purge

Vacuum

Flue side

Upper flue outlet

wall attached
Optional

Anticondensation valve

External air kit

APP
Technical data
| | P185 TH |
| --- | --- |
| Energy efficiency class | A+ |
| Rated output | 5,6 - 13,2 kW |
| Heat output to water | 4 - 10,4 kW |
| Efficiency | 91,4 - 92,5 % |
| Pellet consumption | 1,2 - 2,9 kg/h |
| Tank capacity | 18 kg |
| Ø Flue outlet | 8 cm |
Product weight: 198 kg
Product measures (LxPxH): 100,5 x 30 x 118,6
* Please carefully read all the documentation and information supplied with the product itself and any accessories. If there are any problems or doubts, contact your local dealer or authorized Technical Assistance Center.