Since 1960 we have fostered our love for fire
Ours is a distinctly Italian passion for craftsmanship, where visual appeal and technology combine to create modern style furnishing items. We have always designed our exclusive solutions in Asolo, Italy. Every appliance we produce embodies the highest standards of efficiency, practicality and safety, featuring excellent design and quality materials.
Company
A wide range
Choose from our extremely wide range of heating solutions. Panoramic Fireplaces - doubled-sided, free standing or built-in, with exclusive Majolica cladding surrounds; a whole host of proposals, all with a wide hearth to make the most of your view of the fire. If you prefer the handy simplicity of a stove, Piazzetta boasts numerous models; wood, pellets and gas. You can fit them flush to the wall or in the centre of the room, or slim-fit to slip into the narrowest spaces, capable of heating using various places. Lots of solutions to suit every need, all featuring that exclusive design signed by Piazzetta. See the entire range.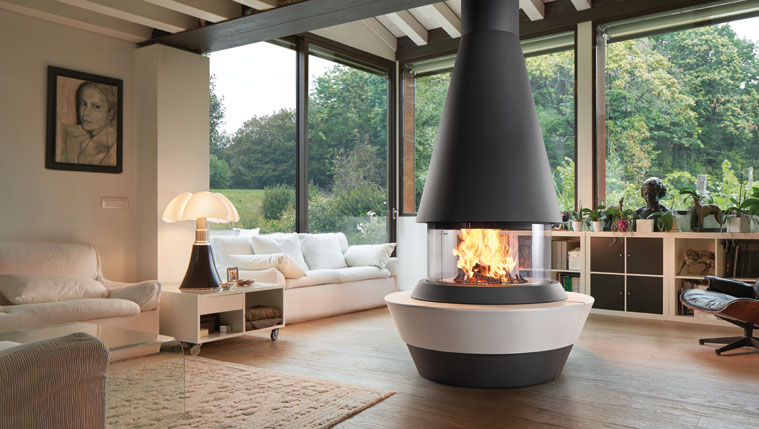 Fire is the soul of all light and all fire clothes itself in light
György Lukács
Advanced solutions for unique products
Piazzetta fireplaces and stoves embody the perfect blend of technology and design. Our ongoing commitment has been to search for the very best in materials and the finest innovations so as to revolutionise the traditional concept of heating, in style.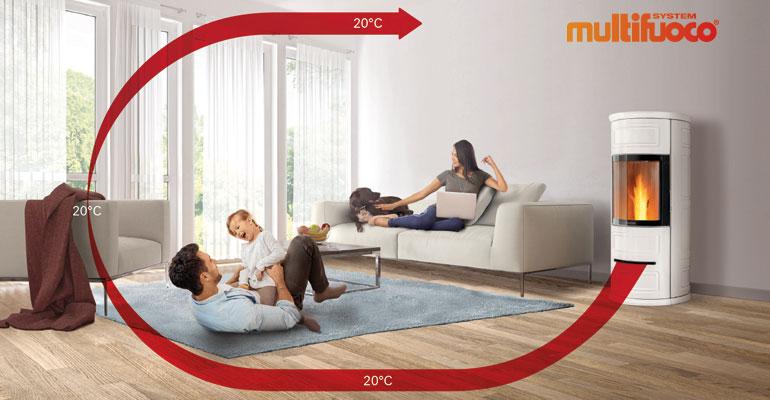 From Multifuoco® System to new heating concepts
Our products are developed to be able to enhance your comfort, and this is why we are always looking for new technologies and solutions. We seek to revolutionise the concept of heating and have managed it in part, thanks to the forced ventilation system called the Multifuoco® System, patented by Piazzetta. Thanks to Multifuoco®, the heat is distributed uniformly, from the bottom upwards, eliminating that difference in temperatures that is typical in traditional systems with natural convection.
Find out more
Hand-crafted Majolica
Our stoves and fireplaces reveal a style whose history is deep-rooted in the past. This history began with the skilled craftsmanship used to produce a fine, versatile material: Majolica. With passion and the utmost attention to detail, we give life to the claddings whose lines and finishings are highly refined, capable of framing and enhancing the splendid view of fire. The traditional artistry displayed in working with Majolica allows us to produce items that are totally unique.
Find out more
The warmth that suits your needs
Piazzetta only uses natural fuels that respect the environment. Thanks to high efficiency and compliance with international standards we are able to offer all the benefits and specific characteristics of wood, pellets and gas.
Piazzetta Easy Life Program
Purchasing a Piazzetta product introduces you to a world of safety and reliability. A world where you'll find all the solutions to your needs.
5
5-year product warranty
10
Spare parts available for 10 years