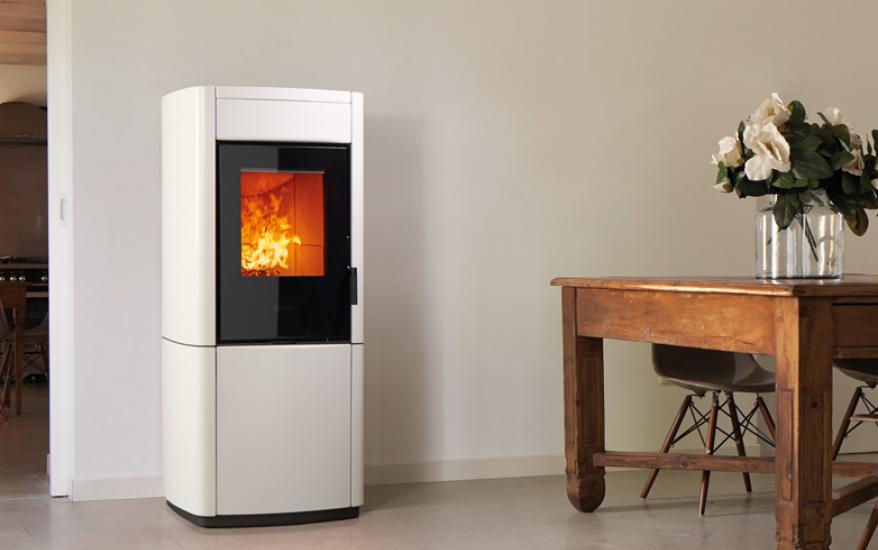 E228 M
Wood and Pellet Stove E228 M, for Wall/Corner installation
E228 M
An hybrid stove, for combined wood and pellet use. Automatic switching between the two fuels, with continuous fire. Gentle and clear-cut lines; a modern embodiment of style. Versions with front or lateral air vent. Available in different colours.

THE PLEASURE OF WOOD
Tradition and innovation to enjoy classic wood fire.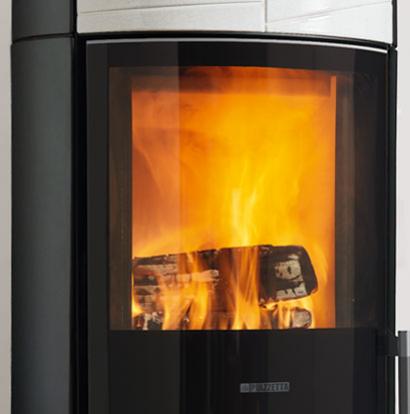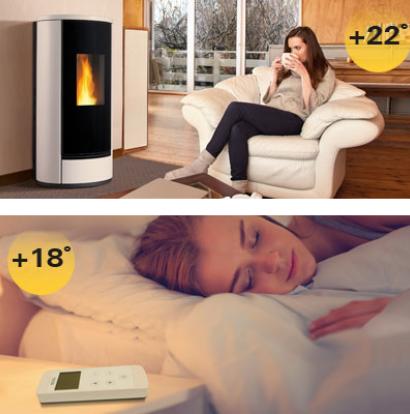 Multicomfort Plus
The Multicomfort Plus function allows for setting a specific temperature in another room – heated with a ducted system – besides the one where the stove is installed. The room temperature can also be measured using an external thermostat, which must be connected directly to the stove's electronic PCB.

Find out more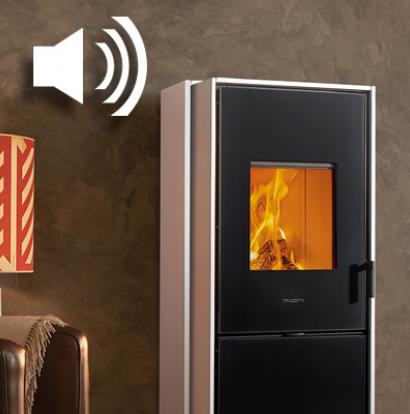 Functional design
The particularly broad firebox and raised brazier structure are designed to accommodate – in an extremely easy and practical way – wood logs up to 33 cm long. The stove emits a buzzer to signal the need to top up the fuel (wood or pellets) when it reaches a low level.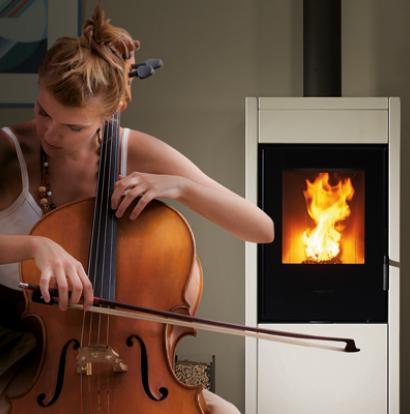 Utter silence with natural draught
Among the exclusive design features is the absence of a fume extractor, meaning that the flue functions with natural draught even during pellet-based operation. With this is new feature, the home can be heated in a totally silent way, while enjoying the crackling sound of burning wood or a pellet fire without any nuisance.

Main features

Pellet quality system

Radiant Majolica

Riscaldarsi con la massima tranquillità

Remote control LCD

Natural heating

Massima silenziosità con il tiraggio naturale

Fuel level sensor

APP WI-FI bluetooth

Multicomfort Plus

wall attached

Programming

Due combustibili, un'unica stufa - Infinity Line

Majolica

Hermetic

Ash box

Remote control
Optional

Multifuoco System
Available colours






Technical data
Product weight: 315 kg
Product measures (LxPxH): 61 x 61 x 143,4
* Please carefully read all the documentation and information supplied with the product itself and any accessories. If there are any problems or doubts, contact your local dealer or authorized Technical Assistance Center.