Prestige Line
Technology and design come together to ensure unique style and maximum performance. Top convenience and solutions to meet different types of use and ambient needs; we are talking about Prestige Line: the most comprehensive range of standard equipment, flexible use and installation, and easy cleaning.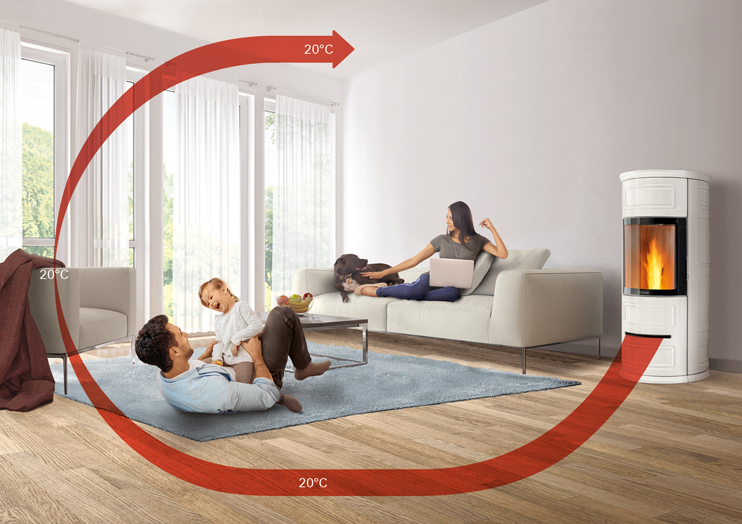 Multifuoco® System
All Prestige stoves come with Multifuoco ®, the forced ventilation system to heat any room, including large-sized ones. Multifuoco® System avoids the layering of heat near the ceiling and ensures heat at floor level (our feet). Heat is distributed uniformly in the room, at a high temperature and with a low output speed to ensure the utmost silence. With the ducting system, you can also distribute heat to other rooms and different floors, up to 16 metres away.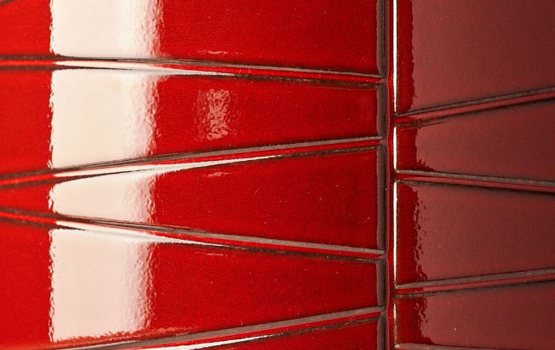 Majolica
A revolutionary combustion chamber ensures maximum efficiency and heats the Majolica cladding from inside, enhancing the pleasure of heat by radiation and prolonging the warmth even after the stove has gone out.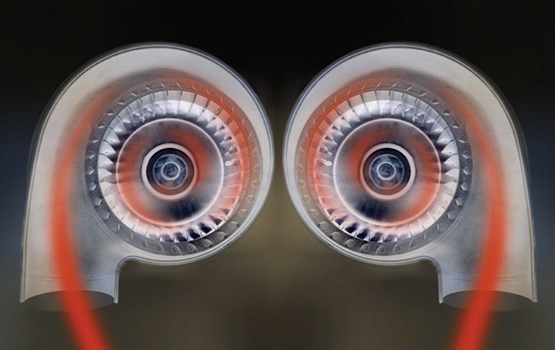 Dual Power System
Dual motors to get a higher flow of hot air that is also perfect for heating several rooms. The flow capacity of the combined fans can be modulated separately, based on the length of the ducting system.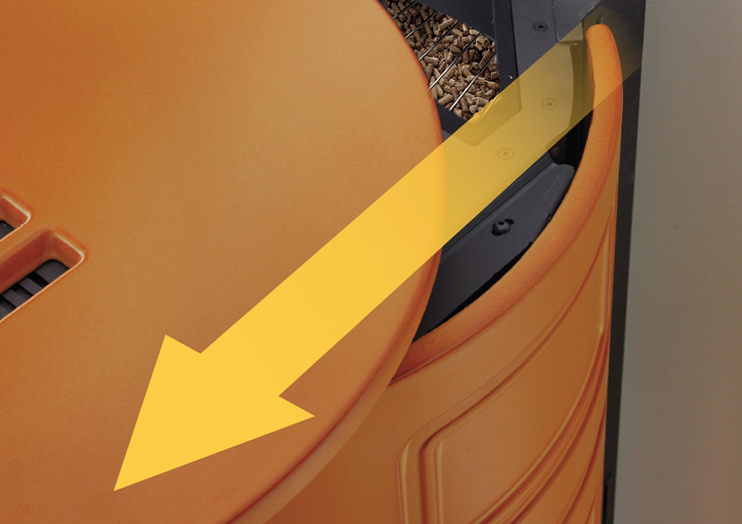 Rolling Top
Rolling Top consists of a sliding surface in Majolica to make topping up with pellets easier; it is an element that allows you to dress your stove uniformly without spoiling the seamless sinuosity of ceramics,with other materials. The Rolling Top thus becomes an item with functional and aesthetic characteristics because it makes it even easier to use and can enhance the refined and stylish forms of the stove.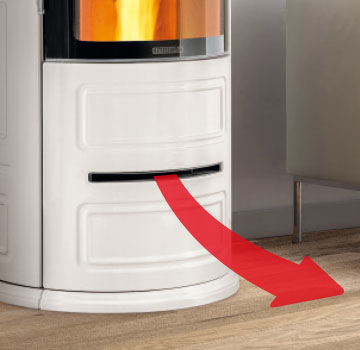 Front vent
Adjustable front vent with low profile: the result of careful design and style research.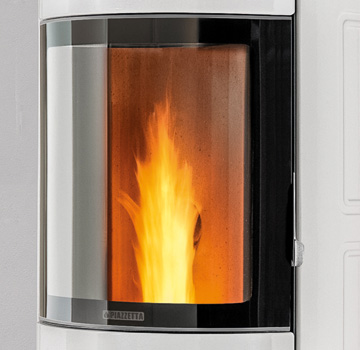 Door with flush glass
Flush curved glass, which follows the sinuous lines of the cylindrical-shaped door: a design studied in detail.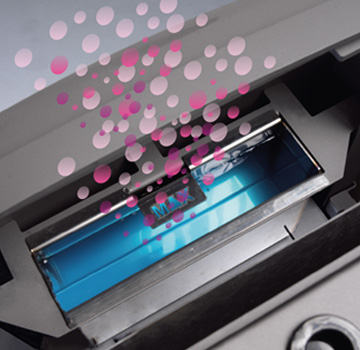 Humidifier
Designed to enhance well-being in your living space, the stainless steel humidifier also sends scented fragrances into the room.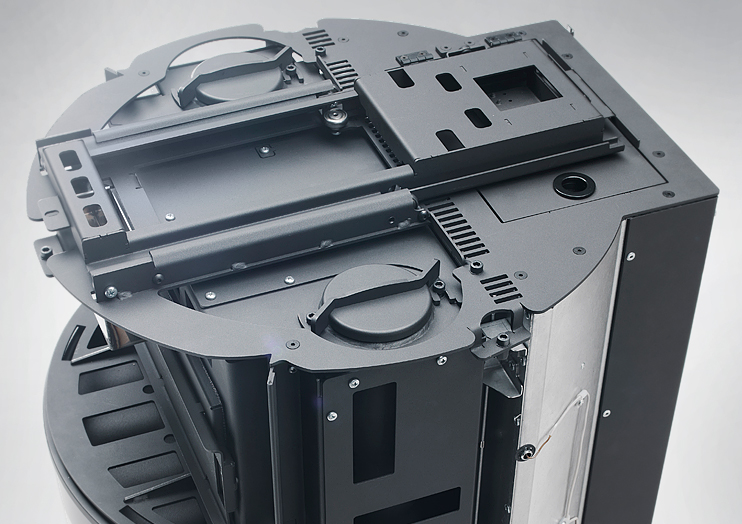 Structural sturdiness
A sturdy firebox made of high-thickness steel. Cast iron door and brazier. The firebox is made in steel and Aluker®, a refractory material patented by Piazzetta, which improves combustion and heat diffusion, thereby increasing the operating efficiency of the firebox The structural sturdiness of Piazzetta fireboxes guarantees a long useful life for all solutions.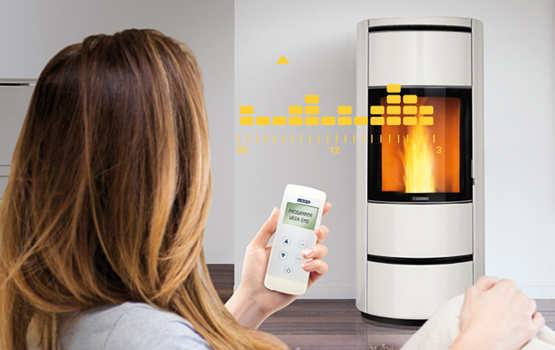 Remote control
Touch remote control with LCD display to program when your stove comes on and goes off. The device also has the Multicomfort function which allows you to measure the temperature in each room and set the stove operation until the previously set, required temperature is reached.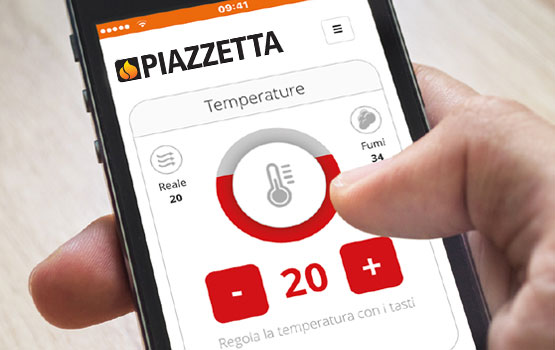 Sms-App
Remote management via SMS or APP: communicating with your pellet stove has never been so easy and immediate. With an SMS or using the special application, you can remotely monitor and control the start-up or shutdown of your stove.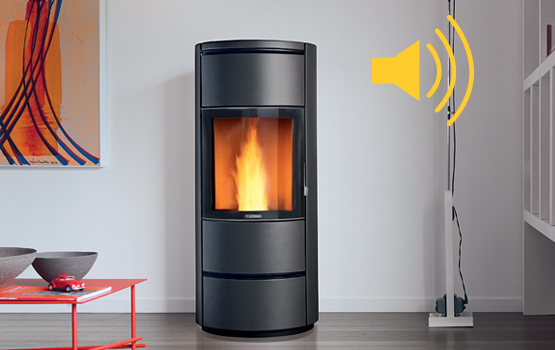 Top-up warning
Pellet top-up warning: a Prestige stove is a smart solution because it also warns you with an audible alarm and a message on the remote control when you need to top up with pellets.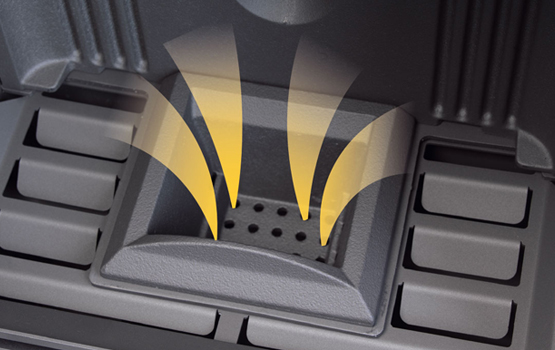 Brazier cleaning
Cyclical brazier cleaning during operation in order to optimise combustion and performance; normal maintenance then becomes more convenient and practical.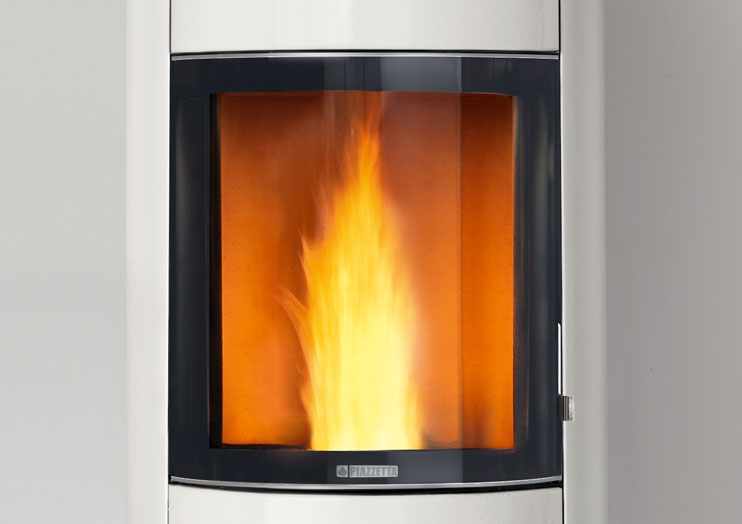 Airtight firebox
Airtight fireboxes are designed to maintain better quality air in the room and to ensure high performance and efficiency. They are suitable for all types of houses and are the perfect solution in houses that cannot have a traditional type of external air inlet. Buying an airtight appliance also has an advantage with consumption and thus  lower costs thanks to greater efficiency. Cold air entering the room forces the stove to produce more heat, which turns into higher consumption in order to maintain an ideal temperature. With an airtight firebox this problem does not exist and this means less consumption and greater savings.