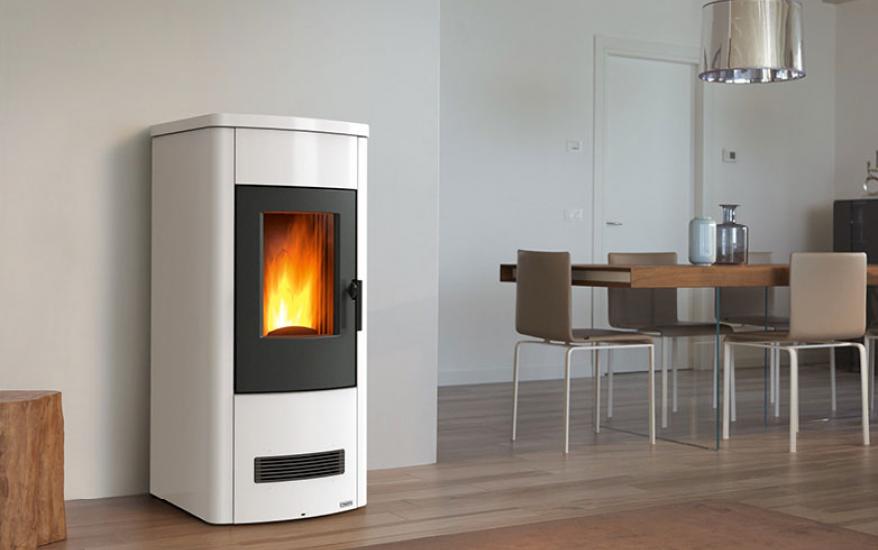 P130
Pellet Stove model P130 with Steel cladding, for Wall - Corner installation. Energy Efficiency Class A+. Airtight firebox. Fitted with the Natural Mode function. Wi-Fi for App management supplied as a standard feature.

P130
Pellet stove with steel cladding and Majolica top. Available in Bianco, Rubino, Nero. Simplified controls with digital panel. Available with Natural Mode function for natural convection heating. Exclusive Multifuoco® System, ductable, forced ventilation system for completely uniform heating.


THE EFFICIENCY OF PELLETS
Performance and savings, the optimum solution for bringing warmth to the home.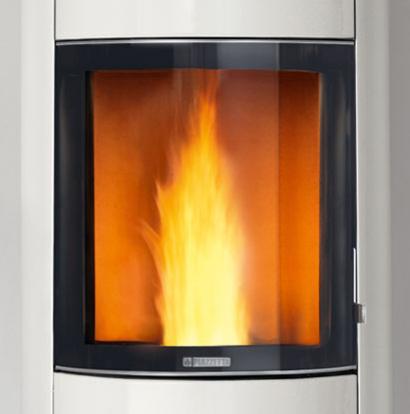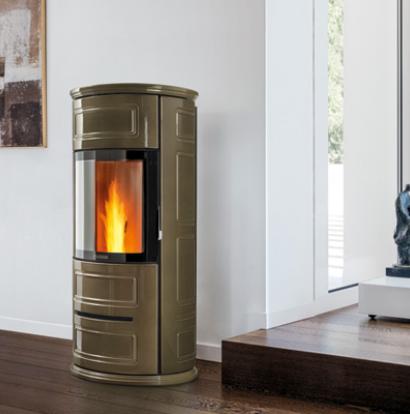 Natural Mode also for natural convection heating
With the Natural Mode function you can switch from forced ventilation to natural convection heating, which triggers natural air movement by exploiting the temperature differences in the room. In this way, the heat is distributed more gradually and in an ultra silent mode. With Natural Mode, you have the confidence of being able to create the right atmosphere at home to really relax.
Find out more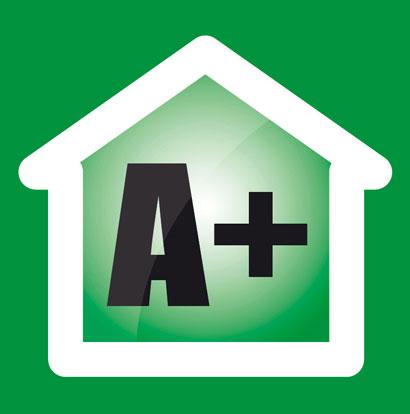 Airtight Fireboxes
Appliances with airtight fireboxes are designed to maintain better quality air in the room and to ensure high performance and efficiency. Drawing combustion air from the outside avoids using up the oxygen in the room where the appliance is installed. They are suitable for all types of homes and are the perfect solution for passive houses that cannot have a traditional type of external air inlet.
Find out more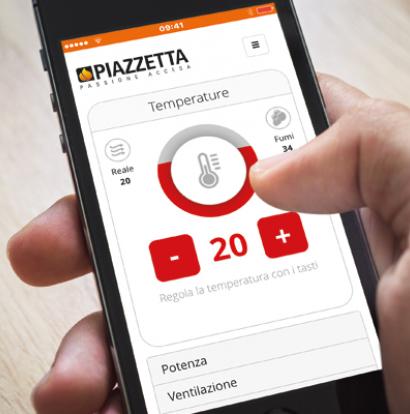 My Piazzetta app
The My Piazzetta app can be used to monitor pellet- and wood-based operation and programme the switching on and off sequences remotely, using the standard Wi-Fi device. The My Piazzetta app can be comfortably used also from home, via Bluetooth.

Main features

Natural mode

ECO

Fuel level

Air wash

Multifuoco ducting

Vacuum

Programming

Hermetic

Wi-fi, App, Bluetooth

5 levels power

Majolica and steel

Trend power

Left rear flue

Air Combustion System

Energy saving

Automatic cleaning

Pellet quality system
Optional

Umidificatore

Top flue outlet

Upper Coaxial Flue Outlet Kit

Remote control LCD
Available colours



Technical data
| | P130 |
| --- | --- |
| Energy efficiency class | A+ |
| Rated output | 4 - 11 kW |
| Efficiency | 90 - 91 % |
| Heatable volume | 185 - 315 m³ |
| Pellet consumption | 0,9 - 2,5 kg/h |
| Tank capacity | 27 kg |
| Ø Flue outlet | 8 cm |
Product weight: 138 kg
Product measures (LxPxH): 54,2 x 55,7 x 123
* Please carefully read all the documentation and information supplied with the product itself and any accessories. If there are any problems or doubts, contact your local dealer or authorized Technical Assistance Center.